2019 was a year of long-distance running.
Dodging scooters and running on the beaches of Thailand, Vietnam and Indonesia as well as in the mountainous landscapes of Norway, Northern Italy, Nepal and New Zealand.
In other words, quite the diversity and I've loved every minute of it.
I'm pretty sure that I logged more kilometres during the course of the year than I have done cumulatively in the rest of my life. Without a doubt when it comes to elevation gain!
I have also hiked loads more. On the other hand, gym sessions have been few and far between. That's totally fine with me.
Most importantly of all, I've enjoyed moving outside tremendously and I have stayed injury-free.
Overview
Total distance: 1,853 kilometres
Total elevation gain: ~ 27 kilometres
Total time: 219 hours
Total time in Zone 1: 95 hours
Total time in Zone 2: 64 hours
Total time in Zone 3: 23 hours
Total time in Zone 4: 20 hours
Total time in Zone 5: 6 hours
Records
Longest distance run: 32 kilometres (already smashed this in 2020!)
Fastest 5k: 19 minutes 56 seconds
Fastest half-marathon: 2 hours 12 minutes
(None of these have been goals but still fun measurements)
All data has been extracted from TrainingPeaks where I upload my Garmin data. Some hikes are included in the total elevation gain but not in the rest of the data. The rest is all runs, treadmill runs and regular runs.
Graphs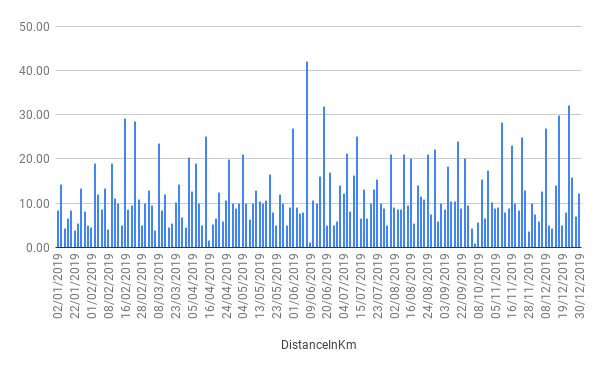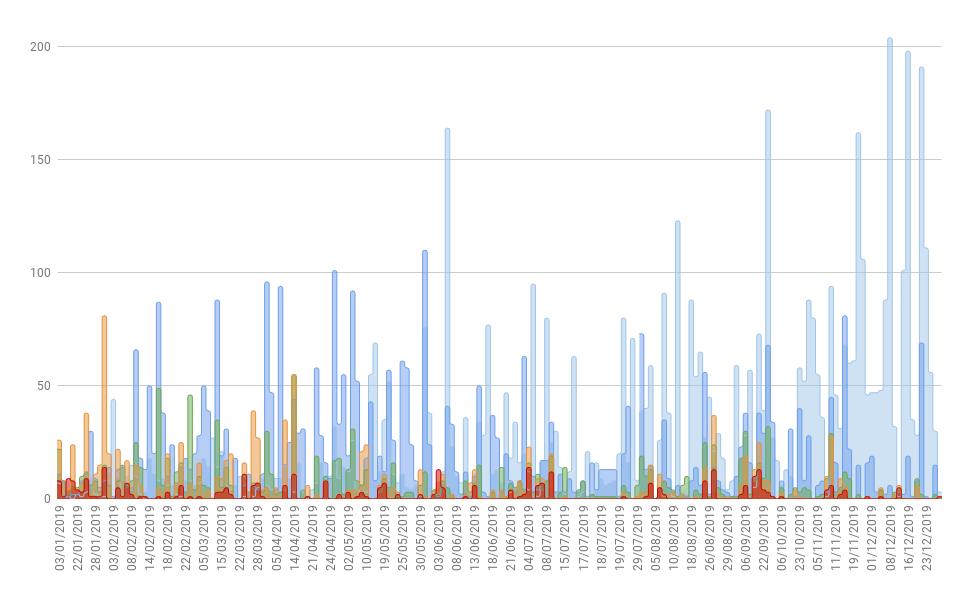 Training philosophy
In 2019, I have mainly been training for running in four-week blocks consisting of three weeks of varied running workouts and one rest week with much less volume and intensity.
Most weeks have been made up of one short run (around 5k) run at low intensity, one interval workout, one long run (that on average gets longer and longer for each month) and one relatively long run about half the distance, often back-to-back with the long run.
For the long runs, I have focused on staying below my aerobic threshold – often referred to as zone 1 and zone 2 training.
This is absolutely key to building more aerobic capability ("a bigger base"). That means that I, over time, can run faster at lower heart rates that are sustainable for much longer.
For the interval sessions with more intensity, I have aimed for zone 4 or zone 5. Work in these zones has made up about 10-15% of the total workload.
Even though I have followed this template to the best of my ability when circumstances have allowed for it, it just hasn't always been feasible. I have, for example, substituted long runs with long hikes on several occasions.
I am by no stretch of the imagination a professional runner and mostly run with this structure in mind to keep me from getting injured and to actually progress, even if it is just a little. So that's all good.
In 2019, I started experimenting with running fasted in the morning to increase fat adaptability. Results have been interesting but not really consistent.
Let's see what's around the corner for 2020. See you out on the trails!